Swimming Pool Heaters Orlando
Table of Contents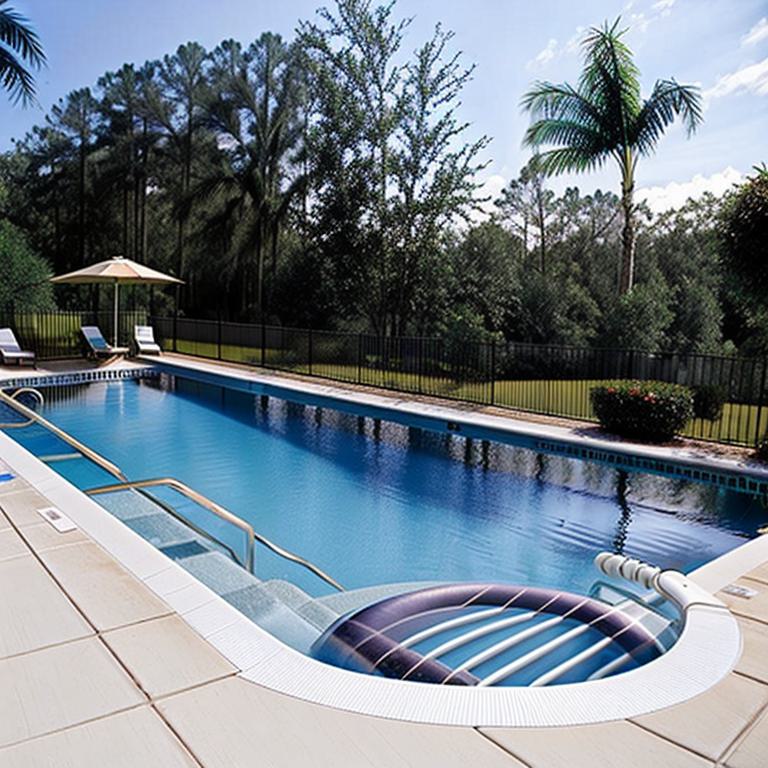 The Importance of Pool Heating
As a devoted provider of swimming comfort in Central Florida, I at Everything 4 Pools and Solar understand the significance of extending your swimming season. Swimming Pool Heaters Orlando offer you the luxury of taking a dip at the perfect temperature year-round, whether you're in Orlando or any of the surrounding communities we serve. Having a heated pool is not just about comfort; it's about maximizing your investment and enhancing your lifestyle, one warm swim at a time.
Take it from my years of experience–once you experience the joy of swimming in pleasantly warm water on a cool evening, there's no going back. Whether you're looking for an environmentally friendly approach with solar pool heating or seeking the quick warmth of a gas heater, Swimming Pool Heaters Orlando are a game-changer for any pool owner.
Choosing the Right Heater
Swimming Pool Heaters Orlando come in a variety of types, each with its own benefits. Solar pool heaters, for instance, harness Florida's abundant sunshine, providing an eco-friendly and cost-effective way to heat your pool. As a dealer for FAFCO, we're proud to offer some of the most advanced solar heating options on the market.
Heat pump heaters are another environmentally friendly option. They function like a reverse air conditioner, extracting heat from the air to warm your pool. Highly efficient in our Florida climate, these units keep your pool at the ideal temperature without relying on fossil fuels.
Gas pool heaters, on the other hand, are ideal for those seeking rapid heating. We service, repair, and replace all major brands, ensuring your pool is warm whenever you're ready to take a plunge, regardless of the weather.
Personal Experience with Heating Options
I've seen firsthand how the right Swimming Pool Heaters Orlando can transform a backyard into a year-round oasis. For instance, one of our clients, now an avid swimmer, was initially hesitant about the cost of heating. Once they experienced the luxury of a solar-heated pool, they couldn't imagine life without it. Their pool became the center of family gatherings, exercise, and relaxation all year long.
My professional journey has shown me that every pool owner's needs are different. That's why we take a personalized approach, considering factors like your pool's size, your usage patterns, and energy efficiency, to recommend the perfect swimming pool heater.
Whether you opt for solar, heat pump, or gas, the goal remains the same: to ensure you have warm water when you want it. With Swimming Pool Heaters Orlando, those chilly dips are a thing of the past.
Maintaining Your Heater
Regular maintenance of your Swimming Pool Heaters Orlando is crucial to their longevity and efficiency. It's not just about fixing issues as they occur; preventative care can save you time and money in the long run. Our licensed technicians are experts at keeping your heating system in top shape, ensuring a warm pool without unexpected hiccups.
For solar heating systems, cleaning and checking for panel integrity is essential, particularly after our frequent Florida storms. Heat pumps require checks on their refrigerant levels and airflow, while gas heaters should have their connections and burners inspected to ensure safe and efficient operation.
Remember, maintaining your pool heater isn't solely about the technical aspects; it's about peace of mind. Knowing your pool will be warm and welcoming whenever you decide to swim is worth every bit of care we put into your heating system.
Why Everything 4 Pools and Solar
At Everything 4 Pools and Solar, we're not just selling Swimming Pool Heaters Orlando; we're providing a gateway to a better quality of life. With our comprehensive licenses and dedication to best practices, we ensure that each installation is done right the first time.
Our commitment to customer satisfaction is evident in our approach. From the first call to the final inspection, we prioritize your needs and preferences. We stand by the quality of our work, as seen in the glowing testimonials from clients like James M. Mehall, who praised our efficient service and attention to detail.
For Swimming Pool Heaters Orlando, you can trust our expertise and personal approach to guide you to the perfect solution. Whether you're heating a lap pool, a family gathering spot, or a luxurious spa, we've got the knowledge and the technology to make it happen.
So, if you're ready to dive into the comfort of a heated pool, reach out to us. Let's discuss how we can extend your swimming season and enhance your lifestyle with the right Swimming Pool Heaters Orlando for your home.
Harnessing the Sun's Power: Solar Pool Heating in Orlando
As a resident of the Sunshine State, I've seen firsthand the growing popularity of solar pool heaters. It's an eco-conscious choice that aligns with Orlando pool heaters requirements for energy efficiency. Our Florida licensed company specializes in FAFCO solar pool heating systems, the industry's forefront with several patents. The most significant advantage is the cost saving – with abundant sunlight, your investment pays off as you rely less on conventional energy sources.
This solar option is not without its planning considerations. Installation costs may be an initial hurdle, but considering the long-term energy savings and the extended swimming season here in Orlando, it's a worthwhile investment. And with our expert team, you're guaranteed a smooth transition to a greener pool heating solution. We've had clients like James M Mehall praise our seamless installations, particularly after complex roofing procedures.
One might wonder about the reliability of Orlando pool heaters powered by solar in the unpredictable weather. While solar heaters are dependent on sunlight, they are highly effective in our region due to our generous number of sunny days. The occasional overcast day is no match for a well-designed system that efficiently captures and retains solar energy, ensuring a warm pool year-round.
Advanced Comfort with Heat Pump Pool Heaters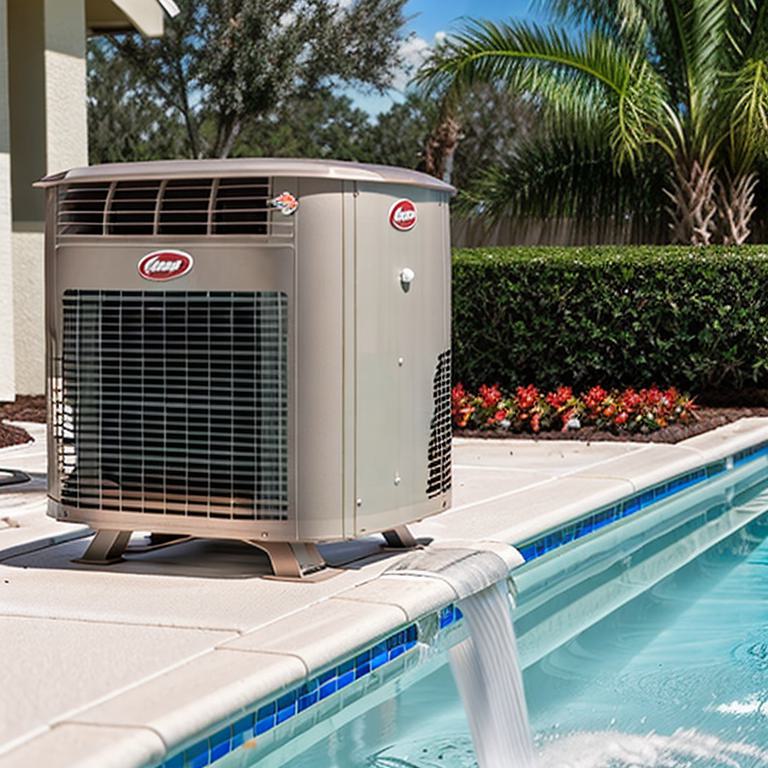 Now, let's talk about heat pumps. When I first encountered a heat pump pool heater, I was fascinated by its operation – like a reverse air conditioner, pulling warmth from the air into your pool. It's a sleek piece of technology, not only for its environmental benefits but also for its cost-effectiveness. As we service various Orlando pool heaters, heat pumps stand out for their quieter operation and lower running costs compared to traditional gas heaters.
The magic lies in the innovation of transferring ambient heat rather than generating it. This makes heat pumps a formidable player in the pool heating game, especially in Orlando's mild climate. We've seen an increasing number of clients make the switch, amazed at the drop in their energy bills without compromising pool comfort.
It bears mentioning that proper sizing and installation are crucial for peak performance. With our expertise, homeowners can rest assured that their heat pump will operate at optimal efficiency. We tailor our services to the unique needs of each pool, considering factors such as size, usage, and location, to provide a personalized and energy-efficient heating solution.
Choosing a heat pump from our range of Orlando pool heaters means investing in a system known for durability and reliability. Our customers often remark on the longevity and stability of their pool's temperature, thanks to the high-quality heat pumps we provide and maintain.
Reliable Warmth: Gas Pool Heaters
For those seeking more traditional heating methods, gas pool heaters remain a staple in our Orlando pool heaters lineup. Despite the rise of renewable energy sources, gas heaters provide certain advantages, like rapid heating and performance unaffected by weather conditions. It's a powerful solution for those chilly dips when you need your pool warmed up in a jiffy.
Our responsibility goes beyond installation; we ensure each gas heater is serviced correctly, keeping efficiency and safety at the forefront. In our years of operation, we've honed our skills to recognize and resolve any issues quickly, minimizing downtime. Our licensed contractors are adept at handling all major brands, a testament to our proficiency and client trust.
Clients often express concern about environmental impact and operating costs. We address these by selecting only the most efficient models and performing meticulous maintenance, ensuring every gas heater operates smoothly with minimal waste. A Orlando pool heaters client once admitted to being skeptical about gas heaters, but our attention to detail and efficiency standards won her over.
Picking a gas heater from our range accommodates immediate heating needs. We understand the urgency of quick pool access, especially for hosting spontaneous gatherings or during sudden cold snaps in Orlando's otherwise balmy climate.
Optimal Pool Heating Solutions
Living in Orlando often brings the joy of sun-filled days but doesn't always translate to warm swimming pool water, especially during cooler months. At Everything 4 Pools and Solar, we specialize in Efficient Pool Heating Orlando to ensure that your pool is inviting all year round. Our range of heating options includes solar pool heaters, heat pump pool heaters, and gas pool heaters, each designed to keep your swim season going without unnecessary costs.
For those seeking sustainable and cost-effective options, solar pool heating systems utilize the abundant Florida sunshine, converting it into reliable heat for your pool. Not only does this reduce your carbon footprint, but with our high-quality FAFCO solar pool heaters, you're investing in a system known for its durability and efficiency. Our solar solutions mean you can enjoy a comfortably heated pool and a clear conscience about your energy use.
Alternatively, our heat pump pool heaters are perfect for those looking for eco-friendly heating with quieter operation. Like a reversible air conditioner for your pool, these heaters extract heat from the air, heating your pool water without the high energy use of traditional heating methods. It's a savvy choice for those looking to balance efficiency with performance.
Personalized Heating Advice
Understanding the unique needs of each pool owner is our forte. In my years of experience at Everything 4 Pools and Solar, I've found that every pool and homeowner requires a tailored approach to heating. When you contact us for Efficient Pool Heating Orlando, you're not just getting a heater; you're gaining a partner dedicated to finding the perfect balance of temperature, cost, and energy usage for your specific scenario.
We pride ourselves on providing insightful advice drawn from our broad expertise. I recall advising a family on the virtues of a gas pool heater for their large, frequently used pool. For those who need quick heating action, particularly in commercial settings, gas heaters offer rapid temperature rise and complete control, making them an excellent option for high-demand situations.
Every recommendation is backed by our licensed contractors' deep industry knowledge, ensuring adherence to safety norms and installation standards. We're not just about selling a product; it's about enriching your pool experience with warmth that compliments Orlando's natural climate while keeping your utility bills in check.
Client-Focused Experience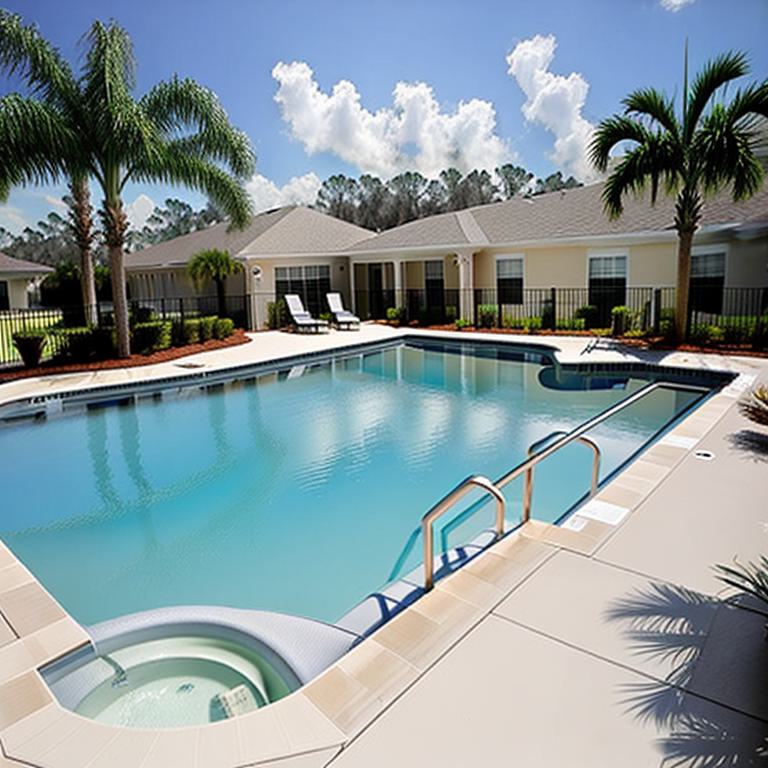 At Everything 4 Pools and Solar, we're more than service providers; we're an integral part of the Orlando community. Our Efficient Pool Heating Orlando services are infused with personal touches, from the first-hand accounts of your neighbors who have benefited from our installations to our responsive customer support that understands your time is valuable.
One of our memorable interactions was with James M Mehall, who was thrilled with the efficiency and quality of our work. Post-roofing, we reinstalled his solar hot water panel to perfection, ensuring his pool heating was uninterrupted. It's stories like his that drive us to maintain our reputation for excellence.
We know you have options, so it's crucial for us that each client feels heard and respected throughout the process–the reason why our clients keep coming back and refer us to others. With Everything 4 Pools and Solar, rest assured you will always be swimming in satisfaction.
Your pool is a focal point for family and friends, a place for relaxation and fun. Ensuring that it's heated efficiently is our commitment to you. For those pondering Efficient Pool Heating Orlando, we're ready to bring our expertise to ensure your pool is a welcoming oasis all year round. Reach out, and let's make every pool day in Orlando a delight.
Is a pool heater worth it in Florida?
Absolutely, a pool heater is a fantastic investment in Florida. This is not only because of the inherent desire to swim in cozy, warm water but also due to the extension of usable pool time throughout the year. Florida might be famed for its sunny disposition, but temperatures can drop, especially in the evenings and during the winter months. Heating your pool means that those cooler days won't interrupt your leisure or exercise routines. Our clients repeatedly share their satisfaction, highlighting how much more they've used their pools post-installation of a heater. Plus, with a variety of efficient options, such as solar heaters, you can enjoy a heated pool without a significant increase in your utility bills.
Do you need a pool heater in Orlando?
While Orlando enjoys a warmer climate than many places, the reality is that even here, water temperatures can get uncomfortably chilly. A pool heater ensures that your pool is not just a decorative feature during the colder days but a functional part of your home. It's all about personal preference and lifestyle. If you envision yourself enjoying a swim regardless of the season, or if you find that the water temperature often dips below your comfort level, then a pool heater is a wise choice. We have helped numerous Orlando residents elevate their swimming experience by installing a heating system that suits their specific needs and budget.
How much is a pool heater in Florida?
The cost of a pool heater in Florida can vary widely depending on several factors such as the type of heater, the size of your pool, and the complexity of the installation. Solar pool heaters might seem more costly upfront but provide considerable savings in the long run. Heat pump pool heaters are middle of the road in terms of initial cost but are much more cost-effective than gas heaters when it comes to monthly operating expenses. Gas heaters may cost less to install but tend to have higher monthly fuel costs. On average, you could be looking at anywhere from a couple of thousand dollars for a gas heater to several thousand for a top-tier solar or heat pump system. The key is to weigh the initial costs against long-term savings and benefits–something we can help with during a consultation.
Is it worth putting a heater in a pool?
Installing a heater in your pool is certainly worth considering, and it's something we at Everything 4 Pools and Solar advocate for many reasons. For starters, it drastically increases the use you get out of your pool. Imagine hosting year-round pool parties or having the ability to take a stress-relieving swim any evening you choose. Secondly, a heater can add value to your property and appeal to potential buyers who are looking for a home with a pool that can be enjoyed in all seasons. It's a comfort and lifestyle enhancement that, when chosen correctly, aligns perfectly with Florida's climate. After all, what's more enticing than the promise of a comfortably warm swim after a long day?
Pool Heating Resources
Everything 4 Pools and Solar
407 927 0652
973 Shadick Dr
Orange City FL 32763 US